It Pays to Get Vaccinated!
Carolina Complete Health members age 5 years and older can receive a $75 My Health Pays® reward when they receive a COVID-19 vaccination.
Carolina Complete Health will reward the first 35,000 members who receive a first, second, or booster COVID-19 vaccination starting November 15, 2021 through June 30, 2023. There is a limit of one $75 reward per member. Members must be enrolled with Carolina Complete Health at the time of vaccination.
The $75 reward will be loaded on the My Health Pays® Visa® Prepaid Card. Every Carolina Complete Health member receives a My Health Pays® Visa® Prepaid Card within two weeks of enrollment. If you do not have a card, please contact Member Services at 1-833-552-3876 (TTY 711). To learn more about My Health Pays, see the Frequently Asked Questions section of the My Health Pays Page.
How to Receive your $75 Reward

Go to your vaccination appointment. Find a vaccine location near you.

Show your Carolina Complete Health Member ID Card where you get vaccinated. When Carolina Complete Health process the claim from the provider for the vaccination, you will receive the $75 reward on the My Health Pays® Visa® Prepaid Card.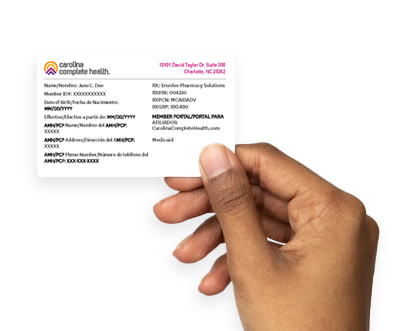 If you did not get the vaccination at your Primary Care Provider or if you did not present your Carolina Complete Health member ID card at the vaccination site, you may also upload proof of vaccination or mail proof of vaccination to: Carolina Complete Health Attn: COVID-19 Vaccination, 1701 North Graham Street, Suite 101, Charlotte, NC 28206. Proof of vaccination must include a copy of the vaccination card (please do not mail the original vaccination card).
Contact Us
Carolina Complete Health provides you and your family with the care you need and the benefits you deserve. We are here to help with any questions about our reward incentive.
Call us at 1-833-552-3876
MOBILE VACCINATION EVENTS
Carolina Complete Health has partnered with CORE to bring free COVID-19 vaccinations and free COVID-19 testing to Gaston County, Granville County and Scotland County.
EVENT DETAILS
COVID-19 MEMBER RESOURCES
Carolina Complete Health has resources available for members.
MORE RESOURCES
LEARN ABOUT BOOSTER SHOTS
The Centers for Disease Control and Prevention (CDC) has information about booster shots. Find out if you are eligible to receive a booster shot.
LEARN MORE